Revolution Off Road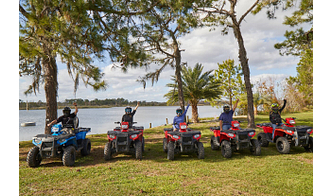 4000 State Road 33
Clermont, FL 34714
Phone: 352-400-1322
Location: Lake County
Revolution Off Road is a unique off road attraction park covering 230 acres of various tracks and trails close to all the major attractions.  This self-drive attraction is a one of a kind experience suitable for guests of all ages. Whether novice or experienced rider this is the safest way to view the Florida countryside from the land and the water. The privately owned fishing lake offers charters on our own boats and everything you need to catch a Trophy Bass is included in the deal.
Perfect for small or large groups, the perfect spot for your next party, wedding, corporate function or team building experience. Reservations are always required and available every day of the week.
Category: Popular Attractions
Distance to Walt Disney World: 15.0 Miles
Distance to Orlando Intl Airport (MCO): 31.7 Miles
Distance to Sanford Intl Airport (SFB): 43.8 Miles
Distance to Downtown: 29.0 Miles
Distance to Convention Center: 22.3 Miles
Distance to SeaWorld: 22.3 Miles
Distance to Universal: 22.7 Miles
Popular Amenities
Length of Activity: Quarter Day
Admission Price: Please visit our website for list of prices. All experiences require a reservation. You must be over 16 to ride ATV.
Hours of Operation: 8:30 a.m. to 4:30 p.m. by reservation
Other Amenities
Group Policy: Discounts available for groups 15+
Group Rates: From $80 + tax
Maximum Banquet Capacity: 500.0
Maximum Reception Capacity: 500.0
Maximum Seating Capacity: 500.0
© Visit Orlando. All rights reserved.