3NINE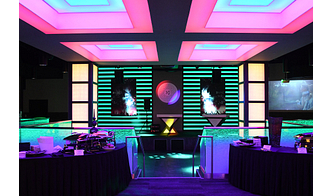 Rosen Plaza Hotel, 9700 International Drive
Orlando, FL 32819
Phone: 407-996-9700
Location: International Drive & Convention Center Area
Slip into something more imaginative at the all-new 3NINE®. It's a cutting-edge entertainment venue that's designed to impress, featuring state-of-the-art sound, intelligent lighting and lasers, color-changing columns, programmable flat-screens and stylish, sophisticated décor. With a restaurant boasting exotic flavors, live music, two full-service bars featuring new takes on classic cocktails and a VIP lounge overlooking the main stage, 3NINE stimulates all your senses from the moment you walk in. The vibe, the energy, the essence — the entire look and feel — morphs depending on the time of day and audiences served.
Acclaimed by Fortune 500 clients, 3NINE is available for private events and corporate buyouts with multiple indoor-outdoor capacities, including the ability to accommodate concerts, DJ's, meetings and unique events. Multiple screens allow for video presentations and branding opportunities. Signature event menus available, customized for you by our creative chef. Connecting to '39 Poolside Bar & Grill, 3NINE is the closest indoor-outdoor venue to the Orange County Convention Center. Experience the acclaimed Rosen Hotels & Resorts service when you hold your next event at 3NINE.
3NINE open for dining and dancing 9pm to 2am Thurs-Sat. '39 Poolside Bar & Grill has full menu and cocktails daily from 11am.
Category: Off-Site Venues, Banquet & Reception Facilities
Distance to Walt Disney World: 6.9 Miles
Distance to Orlando Intl Airport (MCO): 9.9 Miles
Distance to Sanford Intl Airport (SFB): 27.6 Miles
Distance to Downtown: 9.9 Miles
Distance to Convention Center: 0.6 Miles
Distance to SeaWorld: 1.6 Miles
Distance to Universal: 3.2 Miles
Popular Amenities
Hours of Operation: 8 p.m. to 2 a.m.
Other Amenities
Group Policy: Available for groups and buyouts
Group Rates: TBD
Maximum Banquet Capacity: 100.0
Maximum Reception Capacity: 500.0
Maximum Seating Capacity: 100.0
On-Site Catering Available
Wheelchair Accessible
© Visit Orlando. All rights reserved.