Homecomin' Florida Kitchen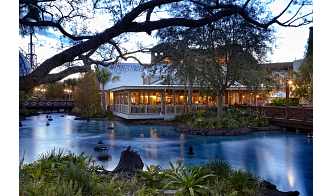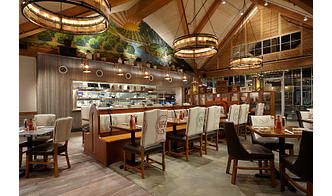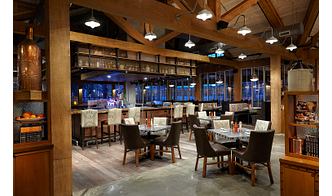 1602 East Buena Vista Drive
Lake Buena Vista, FL 32830
Phone: (407) 828-6094
Location: Disney Springs Area

$$
Chef Art Smith's Homecomin' Florida Kitchen is a homegrown restaurant showcasing southern favorites and hospitality, located in the heart of DISNEY SPRINGS™ at the WALT DISNEY WORLD® Resort.  The restaurant reflects the rural flair and flavor of the Sunshine State and was conceived to celebrate Smith's love of the land and its resources with a wink to the "entrepreneurial" moonshining instincts of his forbearers. 
Homecomin's cooking imbues classic Southern Florida fare and sources local poultry, beef, sugar cane, pecans, citrus and much more.  It offers a diverse menu focusing on traditional favorites from Bee Haven Fried Green Tomatoes and Church Lady Deviled Eggs to amazing Shrimp and Grits and Chef Art's Famous Fried Chicken.  If you have a taste for sweets, Chef Art's world renowned Hummingbird Cake and Shine Cake will blow you away.
It doesn't stop there!  Moonshine is highlighted throughout the bar menu and we offer an array of hand crafted cocktails and shine on tap. 
Homecomin' is great spot for groups of 15-300 with beautiful scenic views over the Springs.  The cracker-style building was erected with steel allowing the screened in porch to cantilever over the water.     
The design reflects the rural Florida roots embracing native woods including cypress, cedar, and oak.  The bar boasts live edge of rescued red eucalyptus while a stately camphor was salvaged to create "conversation corners" at the main bar.  Chef Art showcases his vision of Florida, its architecture and beautiful landscapes, with exterior murals reminiscent of barn paintings and a farmer's wall, paying homage to current Florida farmers and to share their stories with guests.
Homecomin' is the perfect experience for convention buyouts, wedding rehearsal dinners, cocktail receptions, and much more.  All of the detail comes together to make Homecomin' your home away from home at Disney Springs.
Category: American Cuisine
Distance to Walt Disney World: 4.6 Miles
Distance to Orlando Intl Airport (MCO): 13.5 Miles
Distance to Sanford Intl Airport (SFB): 32.6 Miles
Distance to Downtown: 14.9 Miles
Distance to Convention Center: 5.4 Miles
Distance to SeaWorld: 4.3 Miles
Distance to Universal: 8.0 Miles
Popular Amenities
Hours of Operation: Sun.-Thurs., 11 a.m. to 11 p.m.; Fri.-Sat., 11 a.m. to 1 a.m.
Dining
Lunch
Dinner
Reservations Recommended
Outdoor Seating
Entertainment
Full Bar
Casual Dining
Other Amenities
Maximum Banquet Capacity: 230
Maximum Reception Capacity: 500
Maximum Seating Capacity: 230
Private Rooms
© Visit Orlando. All rights reserved.