Visit Orlando and OCCC receive high praise for a record-breaking VMX 2018. Discover why Orlando is a perfect fit for your next medical conference.
---
In February, VMX 2018 — aka Veterinary Meeting & Expo — returned to the Orange County Convention Center (OCCC) in Orlando for the second year. Formerly known as the North American Veterinary Community (NAVC) Conference, the five-day medical show attracted tens of thousands of veterinarians, nurses, technicians and support staff from across North America, and the result was record-breaking success.
"At our 35th anniversary, we hit a new attendance record, where nearly 18,000 people have converged here at the Orange County Convention Center and related properties," said NAVC CEO Tom Bohn, "and we couldn't be prouder of what we've achieved right now."
Furthermore, Bohn and NAVC were thrilled with the OCCC and support services provided by Visit Orlando, and they look forward to returning to Orlando in 2019. Read on to get their feedback and to see why Orlando is perfect for your medical meeting or conference.
A World-Class Venue
Larry Debord, vice president for Medical Illuminations and a VMX exhibitor, hailed the OCCC as an excellent convention venue. "In fact, [it's] probably the best in the country to me, and we do many," he added. "And I say that without any hype. I believe it myself personally."
Bohn was also exceptionally pleased with the setting. "The northwest portion of the Orange County Convention Center has been perfect," said Bohn. "It's big, and it's able to hold our 750,000 square feet of expo hall and all of our classrooms, but it also oddly feels intimate. It feels like home, like community."
The OCCC is wrapping up its multiyear $187 million Capital Improvement Plan to include many upgrades and enhancements. Recent improvements include a renovated West Building, including two completely upgraded ballrooms, aesthetic enhancements, safety upgrades and retrofitting to provide more flexible space. The OCCC Destination Lounge in the South Concourse has also opened to clients, providing a high-tech gathering space for meeting and networking events. And dynamic lighting possibilities have been unveiled campus-wide, including colored lighting on the South building's exterior to support convention branding.
The top-ranked OCCC provides conventions like NAVC the opportunity to grow in a successful destination. NAVC has actually grown in Orlando from one hotel to multiple hotels over the years. Then two years ago it made the leap to the convention center to provide a better attendee experience with the excitement and connectivity of the convention district. 
"The sky bridges sold the entire project to us," said Bohn. "The accessibility to the Center itself has been incredible. As a result of that, our average CE [continuing education] take-up per person has grown 50 percent. We've actually been able to reduce our costs simply because we're able to move in much more efficiently than when we used to do this at hotels."
Connectivity Makes a Difference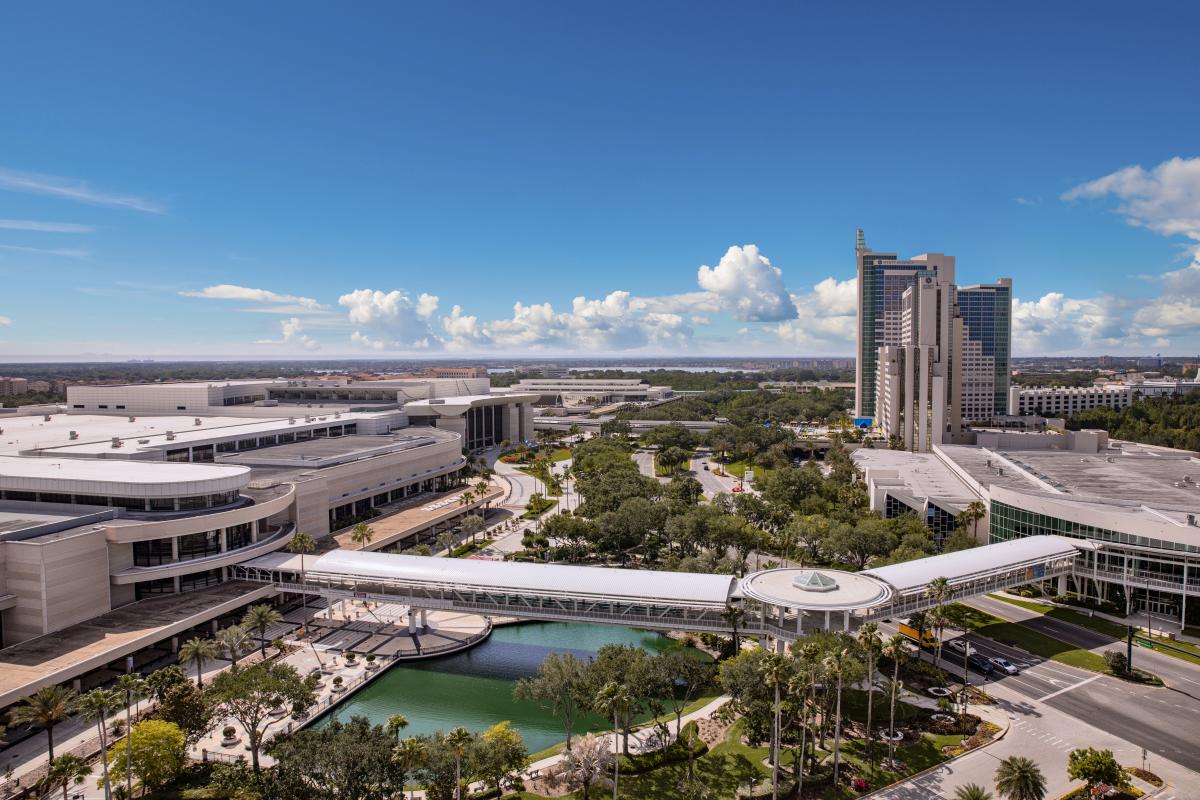 Covered Pedestrian Walkways at Orlando's Orange County Convention Center Provide an Exceptional Level of Connectivity
One of the more recent improvements to the OCCC is a fifth pedestrian bridge connecting the West concourse to the Hyatt Regency Orlando. Together, the Center's five covered, open-air bridges also connect to Hilton Orlando, Rosen Centre Hotel and Rosen Plaza Hotel. This high level of connectivity did not go unnoticed by VMX organizers, who credit it with improving their results.
All told, the OCCC's covered pedestrian walkways provide safe, immediate access to nearly 5,200 hotel rooms, making it as easy for attendees to reach the Center. Best of all, the accommodations are surrounded by exciting retail, dining and entertainment complexes, giving your guests an extraordinary range of after-hours entertainment to please all tastes and budgets.
Sterling Support From Visit Orlando and Orange County Convention Center Staff
Last but not least, VMX had strong praise for Visit Orlando's Destination Services team and Convention Assistants, who helped the show go off without a hitch.
"I don't think it would have happened without Visit Orlando and the support of the Orange County Convention Center teams," said Bohn. "They get the impact for a show like this. Not only has Visit Orlando been critical to getting us here, they're critical to us staying here. It's not like they got the deal done and went home. They continue to be a big part of what we do, and we still consider them part of the team."
Visit Orlando's Destination Services team members played a key role in that success, and they are equally committed to making your planning easier. Our experts can assist with everything from site inspections to attendance building while providing time-saving tools, ideas for unique off-site events, assistance in connecting with local providers, marketing programs and much more.
Want to learn more about meeting in Orlando? Submit your RFP, and subscribe to our newsletter for updates from Cvent's No. 1 meeting destination in the country.