Your guide to free opportunities for groups to explore arts, culture and history throughout Orlando (Cornell Fine Arts Museum pictured).
---
Orlando is known for unique offsite opportunities … up to and including acclaimed galleries and museums, brilliant live performances, nationally heralded cultural events and other celebrations of the arts. Better still, there are numerous ways to enjoy our arts, culture and history for free, providing great value and a great time out for your group the next time you meet in Orlando — including these standouts!
Free Museums & Galleries in Orlando
Located 20 minutes north of downtown Orlando, the city of Winter Park's tree-lined, cobblestoned streets are home to some of Central Florida's most acclaimed restaurants, retailers and nightlife. Arts-minded visitors will also be glad to know that Winter Park boasts an impressive array of museums and galleries, many of which offer free admission or programming.
Take the Cornell Fine Arts Museum, for example. Located on the campus of Rollins College, one of the nation's most respected liberal-arts schools, the museum has more than 5,500 works of art that range from the ancient to modern periods — and no matter when you visit, admission is free.
Exhibits at the Cornell Fine Arts Museum include paintings, sculpture, photography, archaeological artifacts and more. The facility also hosts guided tours on select days, plus panel discussions, gallery talks, lectures and hands-on activities. Open every day of the week except Mondays, the museum even offers private tours for groups of at least eight people, with reservations being required at least 10 days in advance.
And the Cornell Fine Art Museum's reach doesn't end there. The collection is so extensive that it feeds The Alfond Collection of Contemporary Art at Winter Park's The Alfond Inn, which is also operated by Rollins. Comprising nearly 300 pieces, the collection is displayed throughout the hotel's public areas.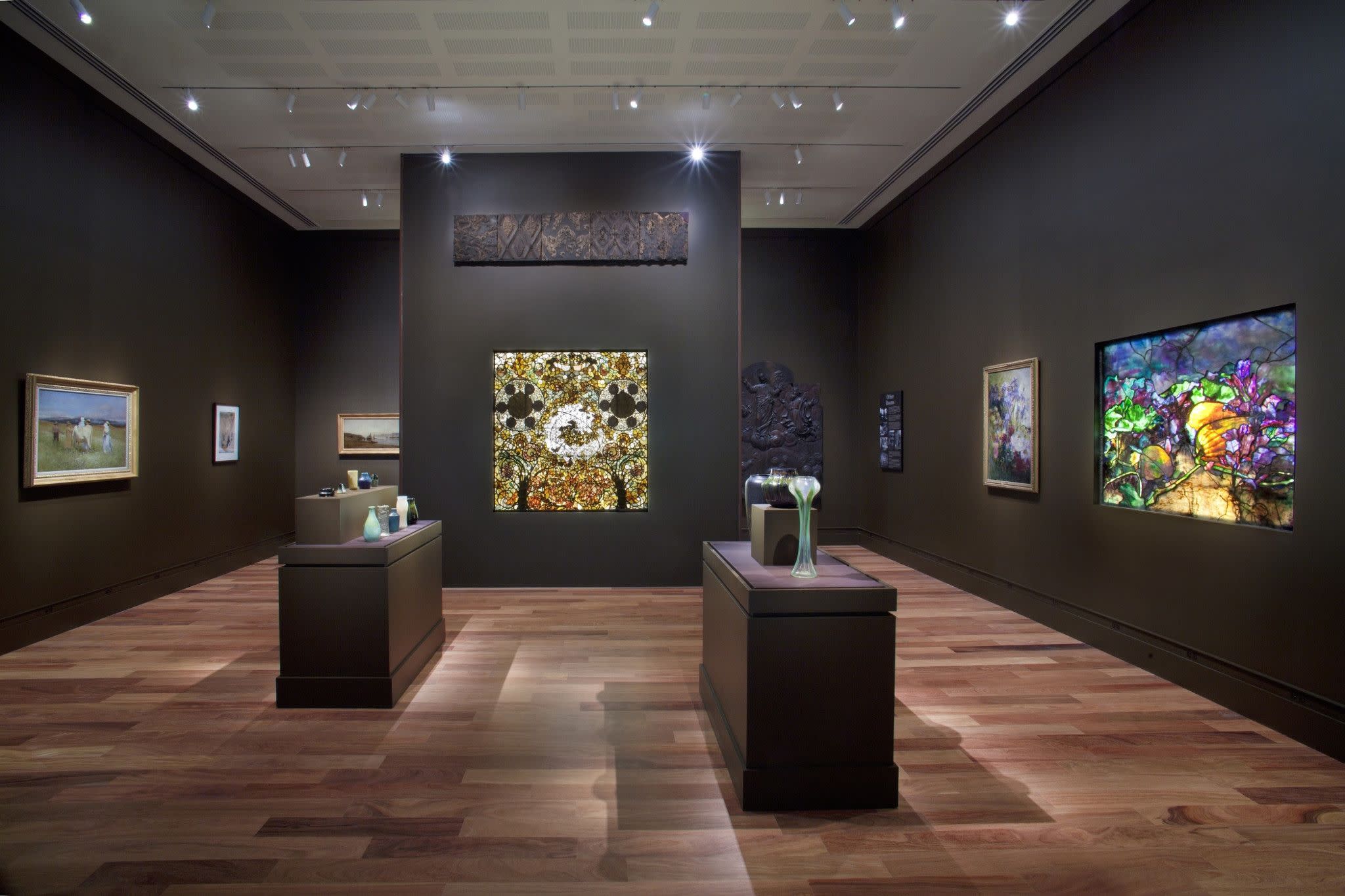 Laurelton Hall at The Charles Hosmer Morse Museum of American Art in Winter Park
Winter Park is also where you'll find The Charles Hosmer Morse Museum of American Art, which in turn exhibits the largest collection of Louis Comfort Tiffany's lamps, glasswork, pottery and jewelry. The museum is open to the public at no charge on certain holidays and 4-8 p.m. on Fridays from November through April. Otherwise, admission fees are never more than $6.
Next, head to Winter Park's historic Farmers' Market Building, which houses the Winter Park History Museum. It features a rotating assortment of themed exhibits and a photo timeline of the city's history, and admission is free. You can also embark on a walking tour showcasing more than 20 historic sites with the help of a free audio tour CD, CD player and map that can be borrowed from the museum for the day.
If your group is looking for something to do on a Sunday, Winter Park's Casa Feliz, a restored Spanish home and museum, hosts free musical performances from 12-3 p.m. as part of its Music at the Casa series. Just 15 minutes away in Maitland, the Holocaust Memorial Resource & Education Center of Florida serves as a memorial to victims while presenting an overview of Holocaust history. Admission is always free.
CityArts, Downtown Orlando
Your group can enjoy the arts for free in downtown Orlando, too, courtesy of CityArts. Consisting of four different art galleries that blend visual and performing arts, the venue offers free admission and is open from 11 a.m. – 6 p.m., Tuesday through Saturday.
About 10 minutes away by car, downtown Orlando's Greenwood Cemetery is the final resting place for some of Orlando's most notable, dearly departed personages, and it also hosts The Moonlight Walking Tour. Covering 4 miles of the cemetery's 100-acre grounds, the tour is free to attend, but pre-registration is required.
In Eatonville, about 15 minutes north of downtown Orlando, the Zora Neale Hurston National Museum of Fine Arts, aka the Hurston Museum, invites the public to view the works of its historic, namesake author, best known for Their Eyes Were Watching God, and other artists of African descent. Admission is free, and walking tours of Historic Eatonville are available at an additional cost.
Free Cultural Events in Orlando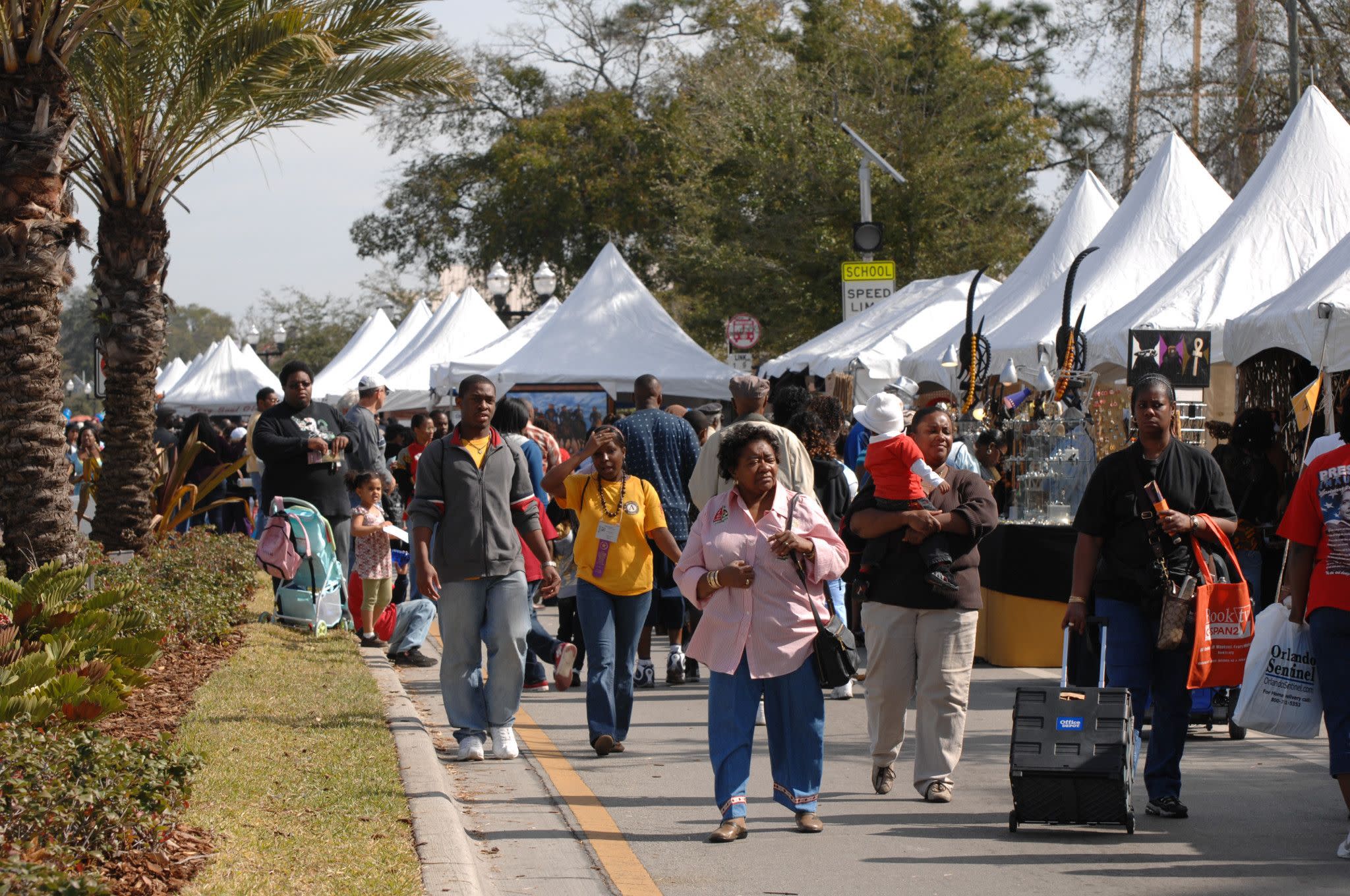 Zora! Festival in Eatonville (Photo: On Track Media)
Each year, Orlando hosts a wide range of multicultural events that are free to attend. Accordingly, you can find something for just about everyone in your group depending on the time of your visit.
Sponsored by the Hurston Museum, Eatonville's Zora! Festival kicks off Orlando's cultural year. Traditionally held on and around the last weekend of January, and dedicated to author Zora Neale Hurston, the week-long event celebrates education, culture and the arts. And while some programming requires paid admission, your attendees will have opportunities to participate in select events for free.
Then, during the first weekend of February, the Mount Dora Arts Festival comes to its charming namesake town, about 40 minutes north of downtown Orlando. The free, two-day, juried event features a cornucopia of nationally recognized visual artists.
Perhaps unsurprisingly given its refined nature, Winter Park hosts two top-rated, juried art shows, including March's three-day Winter Park Sidewalk Art Festival and October's two-day Winter Park Autumn Art Festival. Both are free to attend, with March's show attracting 225 fine artists and craftspeople from around the world, while October's event is exclusively open to artists from Florida.
Finally, Lake Eola Park in downtown Orlando offers Fiesta in the Park, a pair of free, two-day art festivals held in March and November. Other free cultural events in and around downtown include April's Florida Puerto Rican Parade and Festival, as well as October's Asian Cultural Expo, Festival Calle Orange and Diwali Mela — Festival of Light.
Want to learn more about meeting in Orlando? Submit your RFP, and subscribe to our newsletter for updates from Cvent's No. 1 meeting destination in the country.