Orlando is recognized as the No. 1 meeting destination in the U.S. by Cvent for the fifth year in a row (Orange County Convention Center pictured).
---
For the fifth straight year, Orlando has been named the No. 1 meetings destination in the U.S. according to Cvent's 2018 Top Meetings Destination list. Based on hotel sourcing activity through the Cvent Supplier Network (CSN), the ranking also marks the sixth time since 2012 that Orlando has earned the top spot, further solidifying the city's position as a world-class destination for meetings and events of all sizes.
"We are honored to be recognized once again as the No. 1 meeting destination in the U.S. by Cvent," says George Aguel, president & CEO, Visit Orlando. "With new enhancements coming to our convention center and airport, as well as the addition of new venue space, attractions and exciting dining options, Orlando's continued investment in the meetings and conventions industry ensures our position as a top meetings destination."
Why Orlando Is No. 1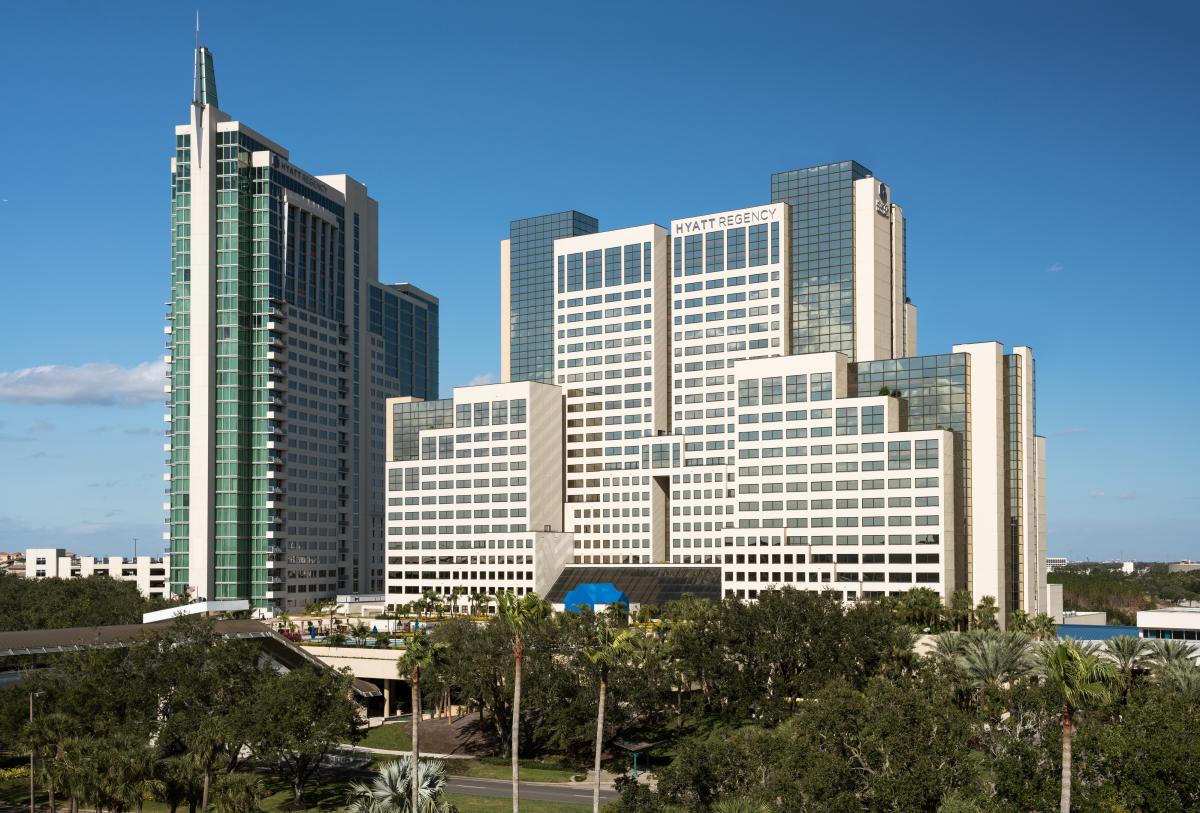 Hyatt Regency Orlando Is Directly Connected to the Orange County Convention Center
To make its determinations, Cvent compared more than 11,000 cities worldwide, tracking activity from Jan. 2017 through Dec. 2017. Criteria included unique and awarded requests for proposals (RFPs), total and awarded room nights, percentage of qualified meeting venues, and number of profile views on the CSN.
Indeed, Orlando boasts impressive guest capacity, with more than 121,000 hotel rooms at over 450 hotels and resorts, including 150-plus meeting hotels. More than 7,300 of those rooms are within a 1-mile radius of the Orange County Convention Center, and that number expands to 17,000 rooms by widening the radius to just 2 miles, all inside key retail, dining and entertainment districts.
These accommodations also provide an extraordinary range of choices representing a diverse spectrum of price points, ensuring the perfect room for every attendee. Of course, there are far more reasons to choose Orlando for your next meeting, including accessibility and unforgettable experiences that attendees won't find anywhere else!
Still More to Love About Meeting in Orlando
Need more reasons to meet in Orlando? Look no further than the Orange County Convention Center, a state-of-the-art, 2.1 million-square-foot facility that recently underwent a $187 million renovation to add a new pedestrian bridge, renovated food areas and ballrooms, an outdoor terrace, a first-of-its-kind "Center to Table" urban garden, and a bright, new color scheme.
Furthermore, getting to Orlando is a breeze thanks to Orlando International Airport (MCO), which was just named J.D. Power & Associates' No. 1 mega airport in the U.S. in terms of customer satisfaction for 2018 — marking the second straight year it received that honor. Not one to rest on its laurels, MCO has also added many recent improvements, with more on the way including a new, high-speed Automated People Mover, a refurbished North Terminal ticket lobby, and more.
Those factors are enhanced by Orlando's unparalleled retail, dining and entertainment districts. For instance, our culinary scene continues to greatly expand, earning recognition from notables ranging from The New York Times to Wine Enthusiast. Several celebrity chefs already have prominent dining experiences here, too, with more slated to open in the near future.
Our entertainment offerings are constantly evolving, too, creating a wide selection of new and exciting opportunities to get out and network with colleagues. In the Convention District alone, more than $1 billion in high-profile development is planned through 2020, including a massive expansion to the ICON Park entertainment hub.
Last but not least, you can always count on expert assistance from Visit Orlando when you meet here. Our Destination Services team members are not only experts on Orlando — they're certified meeting professionals who are equally knowledgeable about the complexities involved in event planning. From answering questions to providing solutions, they work hard to help you achieve one-of-a-kind meeting and event experiences.
Want to learn more about meeting in Orlando? Submit your RFP, and subscribe to our newsletter for updates from Cvent's No. 1 meeting destination in the country.