With expansive event space, a unique golf-game concept and gourmet food service, Topgolf Entertainment is a great venue for hosting an unforgettable meeting in Orlando. 
---
Topgolf isn't just one of Orlando's newest attractions. It's one of the destination's most unique meeting venues, with meeting space that can host everything from small get-togethers to events with as many as 1,000 guests. Throw in a chef-driven food and drink menu, plus their featured point-scoring system with proven appeal to golfers and non-golfers alike, and it's easy to see why so many event and meeting planners are choosing Topgolf.
What Is Topgolf?
Never golfed? That won't stop your event attendees from having just as much fun as seasoned golfers at Topgolf. Simply put, the attraction blends golf with the sort of scoring used in darts or bowling. All told, Topgolf Orlando features 102 driving bays spread across three floors. Featuring an HD TV and music options, all bays are also climate-controlled, so no matter what the weather's like, your event or meeting attendees will be comfortable.
All Images Courtesy Topgolf Orlando
Using microchipped balls, players aim for dartboard-esque targets anywhere from 20 to 215 yards away.The further the distance the chosen target is, and the closer to the center attendees hit, the more points you score. Attendees also won't need to keep track of their score, as Topgolf's system does that for them: Just aim, shoot and enjoy. There is no need to bring golf gear either, as everything is available on-site. 
You might want to highlight the venue's Toptracer technology, especially to serious golfers attending the function. Made famous by recent broadcasts of the Ryder Cup and The Open Championship, this innovation is currently exclusive to Topgolf's Orlando location. With Toptracer tracking each ball and displaying its path, attendees will be able to see instant replays of all shots in HD.
Space to Spare for Any Event at Topgolf
Topgolf Orlando offers five great event-space options, which can be used individually or together to create the perfect space for any outing. They include: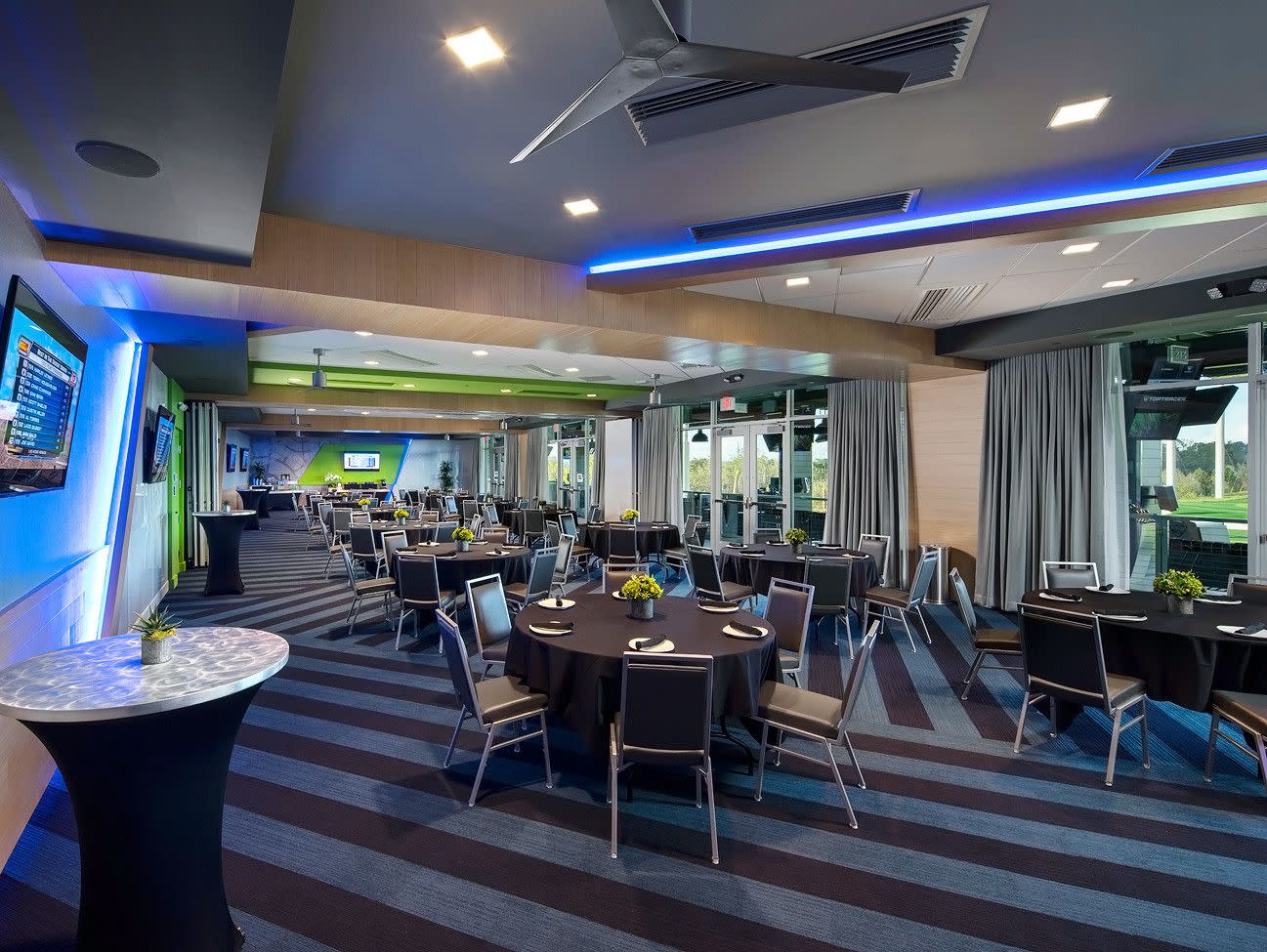 Signature Room: Featuring a private bar, HDTVs, Wi-Fi and A/V capabilities, this 3,000-sq.-ft. room can host 200 guests.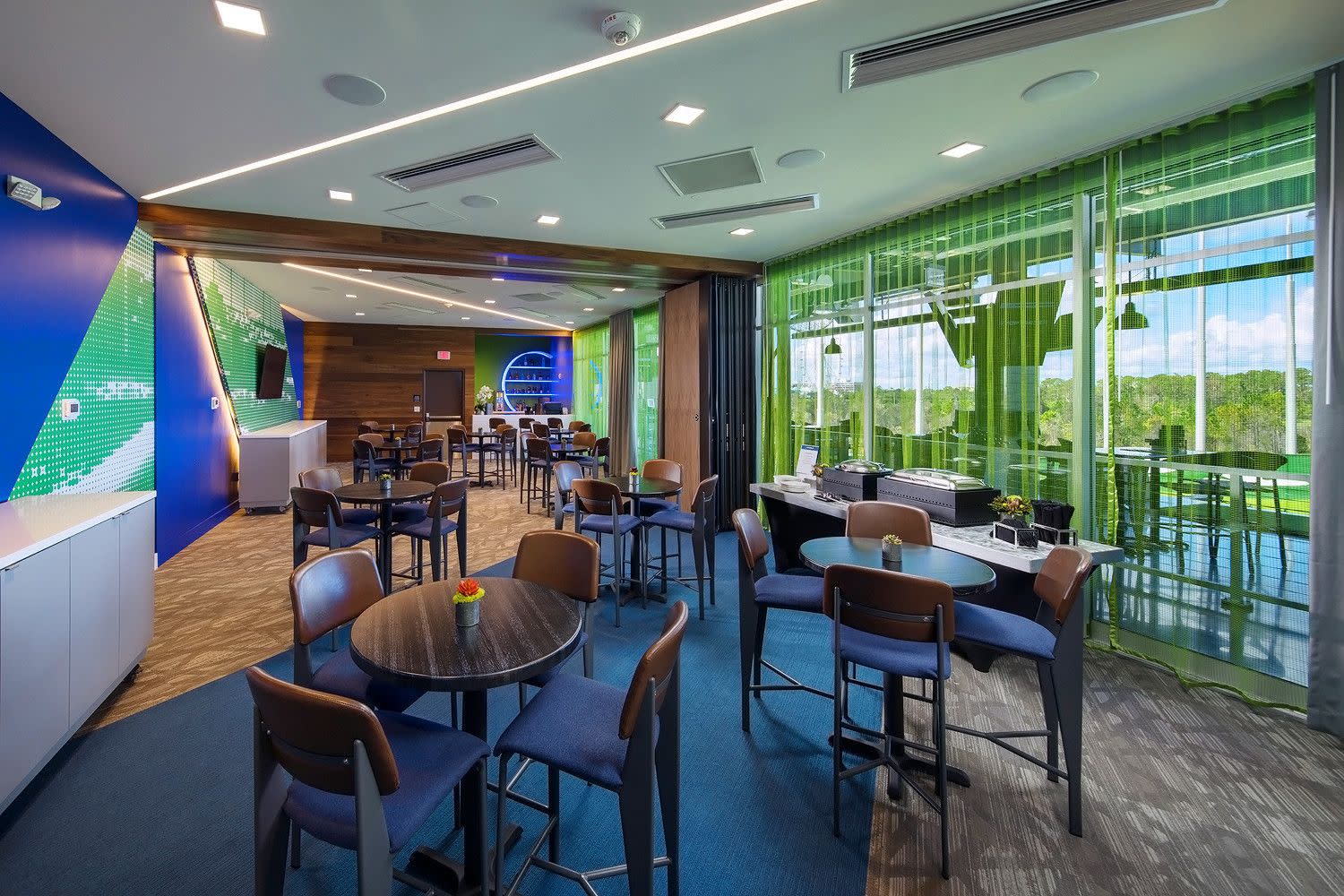 Chairman's Suite: Private space for 70 people, private bar, HDTV's, Wi-Fi and A/V capabilities.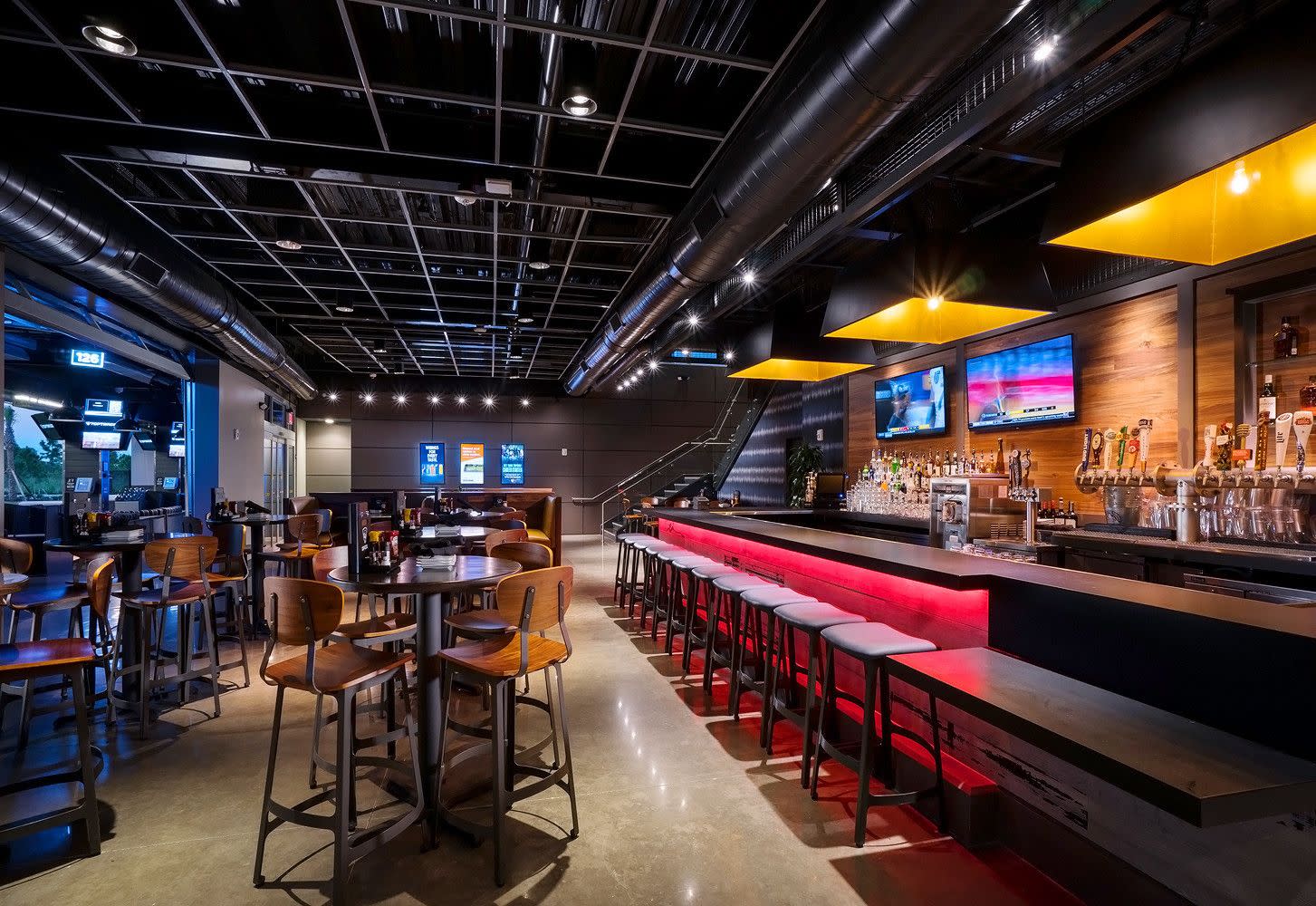 Lower Level Lounge: Featuring HDTVs, Wi-Fi, full bar and entertainment, this room can host 90 guests.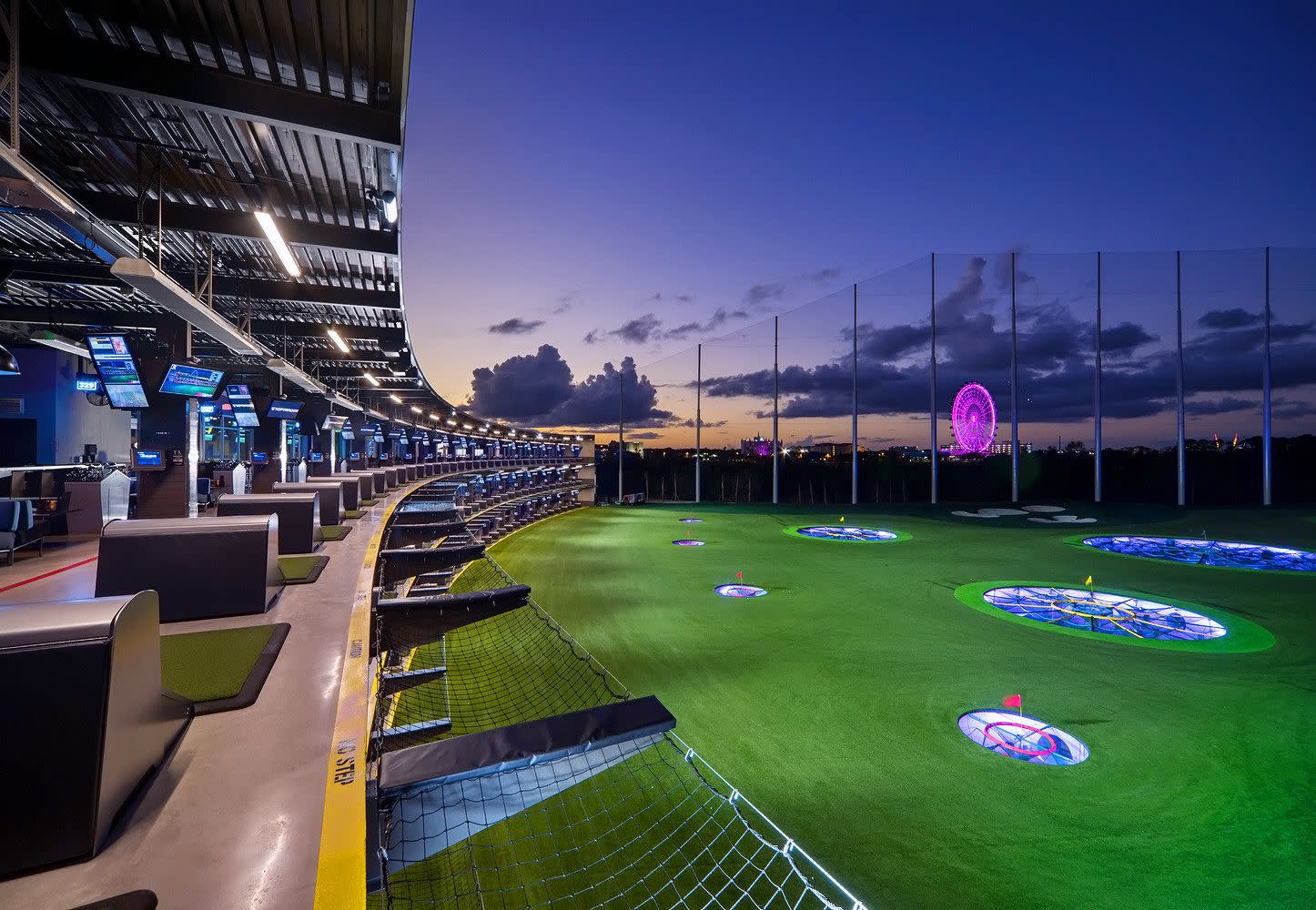 Rooftop Terrace: Featuring HDTVs, Wi-Fi, lounge furniture and a stage, this area can host 178 guests.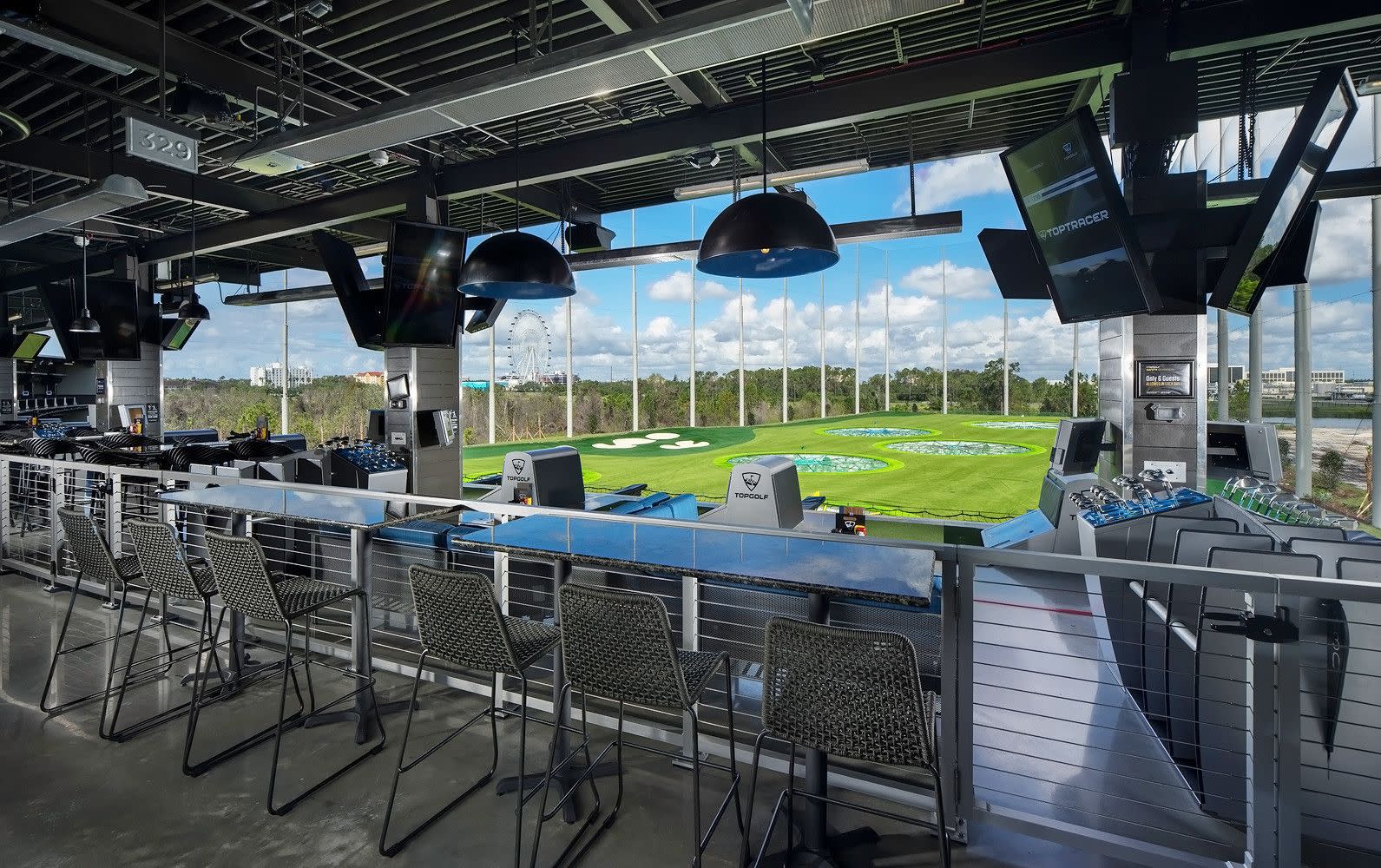 Full Venue Buyout: All of the venue's features are included in this option, which can host up to 1,500 guests. 
More Than Golf at Topgolf Orlando
With a full-service restaurant and bars, foodies and cocktail enthusiasts attending an event or other function will also fall in love with Topgolf. Everything on the menu can be delivered directly to a meeting space or even someone's hitting bay, which means that neither productivity nor fun have to stop just because it's time to eat.
The daily food menu largely focuses on pub-style fare, including appetizers, sliders, flatbreads, sandwiches, salads and burgers. Breakfast and brunch options are also available. For private events, event and meeting planners can opt for a gourmet spread with five different dining packages, including Premium, Fajita Fiesta, Backyard BBQ, Italian Table and All-American.
The full-service bars also feature adult beverages to please every palate. Some of the more unique options are the "Golfbags" — shareable cocktails served in a commemorative, take-home mug. As Topgolf notes, they're sure to make you play better, "… or at least make you think you're playing better."
Want to learn more about meeting in Orlando? Submit your RFP, and subscribe to our newsletter for updates from Cvent's No. 1 meeting destination in the country.